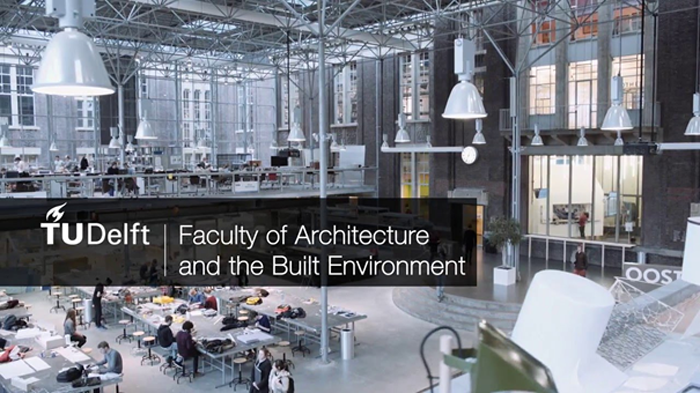 Assistant Professor (tenure track) Landscape Architecture, vacancy no BK2019/31
Department/faculty: Faculty Architecture & the Built Environment
Level: Doctorate
Working hours: 36-40 hours weekly
Contract: Tenure Track
Salary: 3637 - 4978 euros monthly (full-time basis)

Faculty Architecture & the Built Environment
The faculty of Architecture and the Built Environment has a leading role in education and research worldwide. The driving force behind the faculty's success is its robust research profile combined with the passion and creativity of its student body and academic community. It is a place that is buzzing with life from early in the morning until late at night, with four thousand people studying, working, designing, conducting research and acquiring and disseminating knowledge. Academics and students have been working on improving the built environment with the help of a broad set of disciplines, including architectural design, urban planning, building technology, social sciences, process management, and geo-information science. The faculty works closely with other faculties, universities, private parties, and the public sector, and has an extensive network in the Netherlands as well as internationally.
The more than 100 members of the Urbanism department are united in contributing to the Urbanism mission, namely to advance, share and apply knowledge on how the built environment interacts with humans and their behaviour, and how design, planning and engineering interventions can better satisfy human and societal needs. Here 'advance' refers to our research, 'share' to our education and dissemination and 'apply' to our conviction that Urbanism needs to be an action-oriented, forward-looking practice. The department has a global reputation for excellence in research and education and is particularly known for the 'Delft Approach' that brings together the creativity of design with academic research methods. This integral urbanism enjoys high international esteem in professional practice, research and education.
Landscape Architecture has been a part of the faculty's curriculum since the 1940s, when Jan Bijhouwer filled a lectureship. This was later expanded and formalised as a specialty within the Faculty of Architecture, led for nearly 20 years by Frans Maas as Professor. In the late 20th and early 21st century, the chair of Landscape Architecture made great strides under the leadership of Clemens Steenbergen. The group published several internationally recognised books on the fundamentals of the profession. This work finally led to the decision of the University to offer a complete Master Track of Landscape Architecture, which started in September 2010, shortly after the retirement of Steenbergen who was followed up by Dirk Sijmons.
The ability to spatially organise and architecturally process networks and infrastructures make landscape architecture indispensable for current spatial issues. The profession encompasses dwelling, work, infrastructure, recreation, nature and water landscapes at various scales and at different planning levels: from architectural ensembles including the garden and urban fragments to metropolitan park and water systems. In practice, landscape architecture plays a role in all these areas, with varying intensity and in various stages and plan forms. Exactly this 'coordinating role', in a world becoming more and more complex, is needed.
The landscape architecture research programme Landscape Compositions and Systems aims to establish a critical body of knowledge, which can activate and renew actual landscape architecture as an open and inventive design discipline, empowering it to deal with contemporary spatial challenges. The research group focuses on strategy development and design exploration of landscape compositions and systems in the built environment and is exploring and developing the foundations - theory, methods and tools - of the discipline. Landscape Architecture at Delft (next to Wageningen University (WUR) with its origin in the Life Sciences) has its own signature and operates between and with urban design and architecture in order to anchor architectural quality in the (urban) landscape. An approach that keeps up with an international tendency of architecture faculties to unite the entire range of scale and of spatial design in their curriculum.
http://www.tudelft.nl/bk/vacancies
Job description
In 2020 the faculty of Architecture and the Built Environment at TU Delft celebrates the first 10 years of the full Master Track of Landscape Architecture. This relatively young academic branch is in full development and currently attracts students from all over the world. The section of Landscape Architecture is responsible for the content and organisation of the master program and is engaged in BSC education a variety of research projects and two research fellowships. To be prepared for further growth it is time to extend and reinforce our group.
The ideal candidate has developed a specific, recognizable profile over the years. He or she has the ability to transfer landscape architectural theory, practice, argumentation and inspiration to students in various BSc- and MSc-courses of both a LA-disciplinary as well as a multi- or cross-disciplinary nature. He or she is able to introduce and apply new ideas about landscape architecture didactics and education tools and is willing to contribute to the extension of tutoring material.
He or she is willing to collaborate in other research activities and has more than sufficient writing skills to participate in the production of academic papers and other types of publications. Moreover the candidate has developed and is able to present a challenging, landscape architecture related hypothesis or proposal that needs clarification, documentation and elaboration in the context of the research activities in the section of Landscape Architecture.
Requirements
Our students and professionals are creative and unconventional thinkers, and combine academic skills with practical knowledge. Due to the expanding activities of the faculty, we are creating ten new tenure track assistant professor positions. The emphasis of these positions is on education and design, with a strong link to academic research.The assistant professors will teach classes in the Bachelor's programme as well as in the Master's and in the PhD programme, according to their individual interests. We are looking for new colleagues whose ambitions resonate with our profile. As such, this is an open invitation for candidates to share their ambitions with us on (design) education, innovative academic research and societal impact.
The applicant should have:
a PhD in Landscape Architecture architectural design or another relevant discipline;
experience with teaching in MSc and BSc courses within the discipline of Landscape Architecture;
experience in supervising students and PhD-students and the ability to motivate students;
a track record as researcher within the discipline of Landscape Architecture;
experience in the management of research projects and grant proposal writing;
a demonstrated proficiency in the written and spoken use of the English language as well as - if necessary - the willingness to learn Dutch;
good presentation and communication skills.
Conditions of employment
A tenure-track position is offered for six years. Based on performance indicators agreed upon at the start of the appointment, a decision will be made by the fifth year whether to offer you a permanent faculty position. For circumstances as having children or parental leave during the tenure track, it is possible to delay the definitive assessment and extend the Tenure Track appointment to a maximum of 8 years.
The TU Delft offers a customisable compensation package, a discount for health insurance and sport memberships, and a monthly work costs contribution. Flexible work schedules can be arranged. Coming to Delft Service and Partner Career Advice can support with advice for you and your accompanying partner about your individual settling needs in the Netherlands. Once arrived you can be supported with individual consults and diverse workshops. Located on campus are the International Children's Centre and an international primary school which are subject to availability as well as several bilingual schools in the nearby surrounding. Salary and benefits are in accordance with the Collective Labour Agreement for Dutch Universities.
The TU Delft sets specific standards for the English competency of the teaching staff. The TU Delft offers training to improve English competency.
Inspiring, excellent education is our central aim. If you have less than five years of experience and do not yet have your teaching certificate, you get the chance to obtain this within three years.
Information and application
For information about this vacancy, you can contact Prof. ir. E.A.J. Luiten, email: e.a.
j.luiten@tudelft.nl
tel: +31 (0)15 27 84430.
You can find more information about our Tenure Track vacancies on our website:
www.tudelft.nl/bk/vacancies
For information about the selection procedure, you can contact our HR Department, email:
HR-BK@tudelft.nl
To apply, please send:
a letter of motivation;
a detailed CV including a list of peer-reviewed and other publications and a summary of your teaching experience;
a short research statement (maximum 1 A4) with your vision on future research directions;
a short teaching statement (maximum 1 A4) with topics and objectives;
names and contact details of three references.
compiled into a single pdf file named: lastname_firstname_vacancy number.pdf
Incomplete applications will not be considered.
Please send your application by January 5, 2020 at the latest by email to
HR-BK@tudelft.nl
and refer to vacancy number BK2019/31 in the subject line of your email.