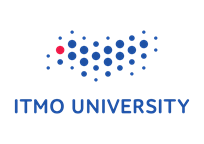 Soft Skills. Internationalization of Research
Recruiter
ITMO University
Location
St. Petersburg, Russia
Academic Discipline
Soft Skills, Internationalization of Research
Contract period
1-2 years (2-week courses)
Description
ITMO University is one of Russia's leading higher education and research institutions, specializing in Information Technology, Optical Design, and Engineering. Founded in 1900, today it is home to 11,125 students and, as a national research university, blends a culture of innovation and discovery with world-class education. The main campus is located in the heart of St. Petersburg, mere steps away from the Peter and Paul Fortress. Our focus is on training elite scientists, engineers, and programmers, especially in the areas of IT, Photonics, Optics, Mechatronics, Robotics, Smart Technologies, Art & Science, and Urban Studies.
ITMO University provides undergraduate, graduate and postgraduate (PhD) programs. The University has been ranked 76th in Computer Science by Times Higher Education, 75th by QS BRICS, and 251-300 in Computer Science & Information Systems by QS. ITMO University's mission is to provide opportunities for the holistic development of individuals and to inspire them to tackle global challenges, as the university's philosophy is to be "More than a University".
Role & key responsibilities
Soft skills are a compulsory part of all Master's programs at ITMO University. It is a set of six cutting-edge study courses aimed at enhancing the students' personal and professional potential. It helps to form or improve on the so-called transferable skills that boost an individual's performance on any career path. Internationalization of research is a project-oriented 2-week course that consists of 6 lectures and 12 workshops. During the course, the students must assemble a team and develop a new interdisciplinary project.
The department seeks a candidate whose teaching style supports a diverse student body. The successful candidate is expected to give lectures and workshops on the following three topics:
Science communication; Reputation management; How to market your research (workshop)
Science communication is a lecture aiming to explain how to
communicate one's research to a wider audience;
build a network of colleagues worldwide;
internationalize research;
promote research using social networks and digital tools.
Reputation management is a lecture aiming to explain
what are the QS, THE, and ARWU international academic rankings and the differences between them;
achievements that influence University rankings;
how academic-corporate collaboration influences reputation;
how to make your University a more prestigious place;
how your publications and citations influence University rankings.
"Market your research" is a workshop aiming to explain how to analyze the market of your scientific field and to commercialize the results of your research.
Assembling a team; Presenting your interdisciplinary team; Presentation skills and vocal presence
This series of workshops aims to help students who see each other for the first time assemble new interdisciplinary teams and, according to their skills, create an interdisciplinary project. The students then present their projects and teams, and finally, when all the research is over, defend it before the jury. The workshops are given at the very beginning and end of the course.
The successful candidate is expected to have university-level teaching and/or research experience in the field of international science communication. Professional experience in any of the fields of science communication and internationalization of research is also welcome.
For more information please contact
softskills@corp.ifmo.ru
Requirements:
PhD holders; for holders of Russian PhD: minimum 3 years of international experience in world's leading universities
Authorship of course-related books is preferable
Recognized online courses preferable
Without prior employment history at ITMO University
All aforementioned criteria are preferable but not mandatory. Outstanding applicants with other professional achievements supported by extra documents are also welcome to apply.
Expected result:
144 academic hours per course; includes both theory and practice. 144 academic hours include students' individual work in preparation for the classes and/or homework assignments. Please note that all lectures will be videotaped for the educational purposes of ITMO University.
Compensation:
Visa expenses, travel expenses (economy class), accommodation expenses (standard, 4 stars) for the period of classes in St. Petersburg, within the limits of the following amounts (depending on the region of the participant's residence)
Up to 130,000 RUB per visit for residents of Eastern and Western Europe.
Up to 180,000 RUB per visit for residents of Africa and the Middle East.
Up to 250,000 RUB per visit for residents of North & South America, Asia, and Oceania.
To apply:
To apply for the job please submit your CV, a motivation letter and a draft version of a presentation (.pdf file) you are going to give during the course to
fellowship@itmo.ru