GESIS - Leibniz-Institute for the Social Sciences is an internationally active research institute, funded by federal and state governments and member of the Leibniz Association. From
1st July 2020
at the earliest, within NoBIAS - Artificial Intelligence without Bias, our department
Computational Social Science (CSS)
located in Cologne (Germany) is looking for an
Early Stage Researcher (PhD Position)
(working time 100%, limited for 3 years)
NoBIAS - Artificial Intelligence without Bias, is a project funded by the
European Union's Horizon 2020
research and innovation programme under the Marie Sk³odowska-Curie Grant Agreement No. 860630. NoBIAS aims at developing novel methods for AI-based decision making without bias by taking into account ethical and legal considerations in the design of technical solutions. The core objectives of NoBIAS are to understand legal, social and technical challenges of bias in AI-decision making, to counter them by developing fairness-aware algorithms, to automatically explain AI results, and to document the overall process for data provenance and transparency. NoBIAS will train a cohort of 15 ESRs (Early-Stage Researchers) to address problems with bias through multi-disciplinary training and research in computer science, machine learning, artificial intelligence, law and social science. ESRs will acquire practical expertise in a variety of sectors from healthcare, telecommunication, finance, marketing, media, software, and legal consultancy to broadly foster legal compliance and innovation. Technical, interdisciplinary and soft skills will give ESRs a head start towards future leadership in industry, academia, or government.
GESIS offers an inspiring work environment for interdisciplinary research at the interface between social sciences and computer sciences. As an infrastructure institution, we promote and support social science research. We also closely cooperate with distinctive international research institutes.
GESIS supports your continuing learning and career by offering a wide range of
Career Development
opportunities in an attractive working atmosphere with a high level of responsibility and scope for action. You will work in an international environment in the heart of Cologne, benefitting from our flexible working schemes.
GESIS guarantees to respect the disability regulations and promotes gender equality at the workplace. As a family-friendly employer, we are certified by the audit
Work&Family
since 2010. The position is available on a full-time or part-time basis.
Here
you can find further information.
Your Tasks:
As a successful candidate, you will:
Work on bias mitigation in ranking methods and will investigate under which conditions individuals or groups are disfavoured by ranking algorithms, such as those used in search engines, and will develop methods for unbiased rankings.
Engage in the NoBIAS research activities and actively collaborate within the consortium.
Actively participate in the training programme offered by the NoBIAS ITN.
Engage with researchers at NoBIAS partner organizations across the EU.
Conduct research visits and secondments according to the individual career development plan.
Your Profile:
Master in Computer Science, Physics, or related fields
Strong Machine Learning skills and mathematical abilities
Very good communication skills and scientific curiosity
Excellent command of English
General eligibility criteria:
To be eligible the applicant must satisfy the
mobility requirements of Marie Sk³odowska-Curie actions
. According to these guidelines, at the time of recruitment, the potential candidate
"must not have resided or carried out their main activity (work, studies, etc.) in the country of the recruiting beneficiary for more than 12 months in the 3 years immediately before the recruitment date. Compulsory national service, short stays such as holidays, and time spent as part of a procedure for obtaining refugee status under the Geneva Convention are not taken into account ".
"be in the first four years (full-time equivalent research experience) of their research careers and have not been awarded a doctoral degree".
Applications that do not meet the eligibility criteria will not be considered.
Required documents:
Detailed CV in Europass format (template available in the following link) in English, highlighting your achievements and fit to the applied position;
Scans of BSc and MSc transcripts, with certified translation in English (if the degree qualification is not in English or in the language of the hosting country);
A motivation letter in English, highlighting why you will be a good fit for the position and why you want to be a NoBIAS ESR to carry out of a PhD;
Contact details or recommendation letters of two referees in English or in certified translation;
Proof of excellent command of English (e.g., IELTS, TOEFL, Cambridge or equivalent). This is not required in case of native English speakers (i.e., English is your mother tongue).
For further information concerning the tasks please contact Fariba Karimi (phone +49 221 47694-239 or via
E-Mail
) and/or Claudia Wagner (phone +49 221 47694-224 or via
E-Mail
). If you have questions about the application process, please contact Alissa Vogt via
E-Mail
.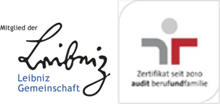 Interested?
Please apply via our Online-application
portal until 15th February 2020.
Our reference number is:
CSS-48
.