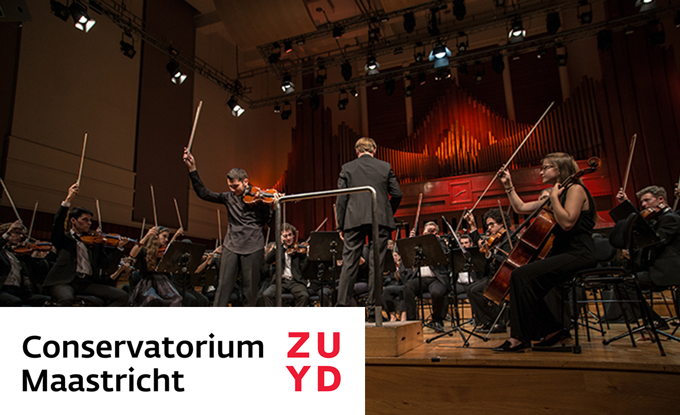 Conservatorium Maastricht, very international in its composition and mindset, is a close-knit community. We believe in collectivity, in the will to challenge each other and excel ourselves. To add value, in and with music.
We enable and inspire students and lecturers to develop by learning, teaching, creating and performing. We prepare our students for a career in music beyond borders and believe in lifelong learning.
Conservatorium Maastricht is the most international conservatory in Europe, with a global mindset, connecting the local to the national and international. Students and lecturers of Conservatorium Maastricht are innovators and offer a valuable contribution to the international world of music and to society, either as performers/creators, teachers, researchers and/or entrepreneurs. Our educational programme is based on links across disciplines as well as with the music industry, other art disciplines, educational and cultural organizations and businesses. We prepare our students for a career in music beyond borders.
Conservatorium Maastricht is part of the Faculty of Arts Maastricht of Zuyd University of Applied Sciences, which comprises the Academy of Performing Arts, i-Arts, Communication & Multimedia Design, Maastricht Fine Arts & Design and Architecture. With around forty Bachelor's and thirteen Master's programmes, 15,000 students and 1,700 staff, Zuyd University of Applied Sciences, is one of the biggest universities of applied sciences in the Netherlands. Its wide range of programmes offers countless opportunities for multidisciplinary collaboration.
With effect from February 1st 2019 we are looking for a:
Head of the Classical music department
(0,8 - 1 fte)
Conservatorium Maastricht offers BA and MA-level programmes in Classical Music, Jazz and Music in Education, which has been recognised as excellent. Conservatorium Maastricht is part of the Faculty of Arts of Zuyd University of Applied Sciences. Conservatorium Maastricht has around 500 students and 150 staff.
Ensemble performance is central to its profile, with orchestra, opera, choir, (jazz) ensemble and chamber music projects. Related to this are the degree programmes in Conducting, Arranging, Composition and Music Theory. For exceptional talent, the Academy has a soloists' programme.
The programme has struck a balance between quality and critical mass. The students' international career prospects range from good to excellent.
The Head is supported by the project office, the coordinator of chamber music/guest lecturers and collaborates closely with the office of academic affairs and other departments and constituents of the organisation.
Profile
The head of department must be a leader/ manager with demonstrable management experience as well as experience as a performing musician
1. Demonstrable management experience, in particular:
experience with artistic management processes in the field of classical music;
planning and management of organisational/financial affairs;
drawing up policy documents and executing policies;
highly developed people management abilities and social skills;
record of skills as team-player and team-leader
2. Performing musician:
knowledge of and experience with the current international classical field (artistic benchmarking), its concert/performance practice and higher professional music education;
impeccable artistic authority based on a demonstrable career as a soloist, conductor, composer, orchestral/chamber musician or theorist at a high level;
substantial and broad knowledge of repertoire relevant to the classical department;
an international artistic network;
affinity with/knowledge of artistic research is considered an advantage.
3. in addition, the head of department:
acts as team-player and team-builder
can distil a strategic vision for the department based on the input of teachers and students
is able to think out-of the box, is flexible, and has an open work attitude;
is visible in the organisation, has good oral and written communication skills (Dutch and English) and has the capacity for multidisciplinary collaboration;
has joint responsibility for the well-being of support staff, teachers and students, has good social skills and empathy;
is active and up-to-date regarding digital communication and social media
Job description:
manages the classical department and acts as its motivator;
advocates for the department and acts in its interests;
contributes to the ongoing development of the artistic vision and direction of the Classical department, as part of the positioning and profiling of the Conservatorium Maastricht;
is jointly responsible for the quality of the entire curriculum;
can inspire enthusiasm in colleagues and students with regard to programming projects for orchestras, opera, choir, ensembles, chamber music and guest lecturers;
chairs examinations;
joins, maintains and expands contacts with third parties (networking);
positions and profiles the department regionally, nationally and internationally
is a member of the management team, with the duties arising from this;
preferably also provides education, this can be part of the job.
Terms and conditions of employment:
An appointment of 0,8 - 1 fte for a duration of 1 year with the Stichting Zuyd Hogeschool, with the prospect of a permanent appointment.
For internal candidates, the current period of employment is respected.
Depending on former education and experience, classification takes place in accordance with the CAO HBO within the career perspective of scale 12 (maximum € 5.301,29 gross per month for a full time appointment).
Interested:
For further detailed information, please contact Joachim Junghanss, director of the Conservatorium Maastricht, telephone number + 31 6 4353 3373.
Applications:
You can apply before the 15
th
of October 2018 by uploading your personal details (including a motivational letter and CV) on the website
www.werkenbijzuyd.nl
.
The interviews will be scheduled between November 5
th
and 8
th
2018.
Unfortunately, we cannot process letters of application addressed directly to the contact person or submitted by other means.