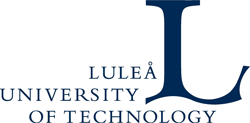 Ph.D. students with focus on Cyber-Physical Systems (CPS) intelligence for production automation and digitalization Lulea
Ref 406-2020 Luleå University of Technology is experiencing strong growth with world-leading competence in several areas of research. Our research is conducted in close collaboration with industries such as Bosch, Ericsson, Scania, LKAB, SKF and leading international universities. Luleå University of Technology has a total turnover of SEK 1.7 billion per year. We currently have 1,650 employees and 15,500 students. We shape the future through innovative education and groundbreaking research. Drawing on our location in the Arctic region, we create global societal benefit. The positions as Ph.D. students include an employment for up to five years, with a wage close to what newly graduated engineers with a Master of Science degree in Computer Science typically get payed in Sweden (
https://www.ltu.se/research/Utbildning-pa-forskarniva/Doktorandsektionen/Information-till-doktorander?l=en
). The EISLAB division of the Department of Computer Science, Electrical and Space Engineering conducts research within Cyber-Physical Systems (CPS) intelligence and software system of systems for the automation and digitalization in production industries. CPS intelligence focuses on integrated software and application architectures with implementations on massively distributed embedded systems that interact with each other and the environment to enable secure, goal-driven, autonomous and evolvable solutions. This research further includes research on applied Machine Learning (ML) and Artificial Intelligence (AI) as well as Internet of Things (IoT). EISLAB are involved in several large European projects on distributed system construction with a focus on IoT, system of systems and CPS intelligence. Present examples include Productive 4.0 (109 partners, budget EUR 100 million,
productive40.eu
), Arrowhead Tools (more than 80 partners, EUR 91 million,
arrowhead.eu/arrowheadtools
) and DigiPrime (more than 35 participants).
PROJECT DESCRIPTION
You will work with some of the following areas of software systems:
Automated execution of contractual agreements based on block-chain technologies
Distributed and decentralized services, with applied machine intelligence (ML/AI)
Service-oriented architectures (SOA) concepts in decentralized system of systems
Security in IoT and system of systems, security management
The studies will be conducted as parts of European projects such as DigiPrime and similar. These project aims to further digitalizing the European industry, where EISLAB will be responsible for the CPS intelligence, IoT and system of systems automation architecture based on the Arrowhead Framework. Projects at EISLAB typically involves working with both academia and industrial partners in Europe. Hence, collaboration with industry in the form of both future product owners and users is a key factor to the success of these projects and includes in-depth cooperation with the software and automation industry. In this, you will work close to other LTU researchers and doctoral students.
DUTIES
As a PhD student, you work towards a Doctoral degree as the final goal. The work will be done with the objectives of the Higher Education Ordinance as support. You will take courses while doing dissertation work in the form of e.g. literature, article, design studies, construction and programming tasks, theory development, analysis and presentations. Teaching and other duties at the division and / or department exists for graduate students, which is limited to a maximum of a year of the total period not exceeding five years.
QUALIFICATIONS
We are looking for you - a talented, analytical and motivated colleague who, both alone and in collaboration with others, can carry out advanced research in our research group. The necessary background for applicants is a master degree in Computer Science, Electrical Engineering and/or Engineering Physics and Electrical Engineering, or equivalent. We also welcome applicants with expected such degree during spring of 2020. The applicant must be proficient in Computer Science. Previous experience of working with SOA, IoT, CPS and/or system of systems is valuable but not a requirement. The applicant must also possess good programming skills, including software design, basic programming concepts as well as experience in Java programming or similar. Fluency in oral and written communication in English is a requirement.
OTHER INFORMATION
The positions as Ph.D. students are within the electronic systems group. Electronics systems include electronics design, measurement technology and electromagnetic compatibility for control, monitoring and instrumentation of technical processes and systems, with close connection to applications and applied research. Admission and employment is estimated be carried out between February and June 2020. For further information, please contact: Associate Professor Ulf Bodin, head of division EISLAB, +46 920-493036,
ulf.bodin@ltu.se
or Associate Professor Olov Schelén, +46 920-492237,
olov.schelen@ltu.se
Union representatives: SACO-S Christer Gardelli, (+46)920-49 1809
Christer.Gardelli@ltu.se
or OFR-S Lars Frisk, (+46)920-49 1792
lars.frisk@ltu.se
About EISLAB:
http://www.ltu.se/research/subjects/EISLAB-industriell-elektronik?l=en
APPLICATION
We prefer that you apply for this position by clicking on the apply button below. The application should include a CV, personal letter and copies of verified diplomas from high school and universities. Your application, including diplomas, must be written in English or Swedish. Mark your application with the reference number below. Final day to apply: 31 March 2020
Reference number: 406-2020