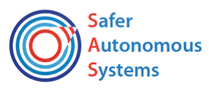 PhD positions in the EU Horizon 2020 Marie Sklodowska-Curie Project:
Applications are invited for 15 PhD positions
("Early Stage Researchers") to be funded by the Marie-Sklodowska-Curie Innovative Training Network "SAS – Safer Autonomous Systems" within the Horizon 2020 Programme of the European Commission. SAS is a consortium of high profile universities, research institutions and companies located in Belgium, UK, France, Germany, The Netherlands, Norway and Ireland (
Figure 1
). This gives SAS some of the best and most relevant of European industry and the key academic players, guaranteeing not only an exciting interdisciplinary, intersectoral research-and-training programme, but also a head-start for bringing about trust in autonomous systems. Each of the 15 ESRs will be working towards a PhD degree, supported by a carefully chosen supervisory team that maximizes both scientific excellence as well as interdisciplinary and intersectoral collaboration. The 15 SAS ESRs will not only receive state-of-the-art science/technology training but will also benefit from a unique soft-skills training programme. This will kick-start their careers as highly employable professionals tackling challenges across many industrial sectors comprising, but not limited to, automotive, robotics, nautical, manufacturing, aeronautics, agriculture and medical industry.
Key dates:
June 29 2018: Launch of 15 ESR Positions
August 31 2018: Deadline for on-line application
September 24 2018: Circulation list "preselected candidates"
November 27 2018: SAS Recruitment Event
November 28 2018: Circulation list "recruited SAS ESRs"
January 1 2019: Targeted starting date for ESR contracts
Key background info
Number of positions available 15 PhD Positions
Research Fields
Software Engineering - Electronic Engineering - Safety Engineering – Computer Science – System Engineering - Machine Learning – Artificial Intelligence – Robotics – ICT Law
Keywords
Functional Safety – Safety Assurance - Dependability – Trustworthy Systems - Autonomous Systems – Self-Driving Vehicles – Autonomous Vessels – Clinical Robots – Pilotless Planes – Autonomous Agricultural Robots - Model-Based Analysis – High-Integrity Systems - Liability
Career stage
Early Stage Researcher (ESR) or 0-4 yrs (Post Graduate)
Benefits and Salary
The successful candidates will receive an attractive salary in accordance with the MSCA regulations for Early Stage Researchers. The exact (net) salary will be confirmed upon appointment and is dependent on local tax regulations and on the country correction factor (to allow for the difference in cost of living in different EU Member States). The salary includes a living allowance, a mobility allowance and a family allowance (if married). The guaranteed PhD funding is for 36 months (i.e. EC funding, additional funding is possible, depending on the local Supervisor, and in accordance with the regular PhD time in the country of origin). In addition to their individual scientific projects, all fellows will benefit from further continuing education, which includes internships and secondments, a variety of training modules as well as transferable skills courses and active participation in workshops and conferences.
On-line recruitment procedure
All applications proceed through the on-line recruitment portal on the
www.etn-sas.eu
website. Candidates apply electronically for one to maximum three positions and indicate their preference. Candidates provide all requested information including a detailed CV (Europass format obligatory) and motivation letter. During the registration, applicants will need to prove that they are eligible (cf. ESR definition, mobility criteria, and English language proficiency). The deadline for the on-line registration is August 31, 2018. The SAS Recruitment Committee selects between 20 and maximum 30 candidates for the Recruitment Event which will take place in Bruges (Belgium) (November 27, 2018). The selected candidates provide a 20-minute presentation and are interviewed by the Recruitment Committee. Candidates will be given a domain-relevant peer-reviewed paper (prior to the recruitment event) by their prioritised Supervisor and will be asked questions about this paper during the interview to check if the candidate has the right background/profile for the ESR position. Prior to the recruitment event, skype interviews between the Supervisors and the candidates are recommended, along with on-line personality tests. In order to facilitate their travel, selected candidates (from outside Belgium) receive a fixed, lump sum of 250 euro (paid by the prioritised Supervisor). In order to avoid delays in reimbursements, candidates are asked to keep all invoices and tickets (cf. train, plane, hotel...). The final decision on who to recruit is communicated the day after the Recruitment Event (November 28 2018). The selected ESRs are to start their research as quickly as possible (target: January 1 2019).
(The full document can be downloaded here:
Recruitement Procedure Document)
Eligibility criteria
Applicants need to fully respect three eligibility criteria (to be demonstrated in the Europass cv):
Early-stage researchers (ESR): those who are, at the time of recruitment by the host, in the first four years (full-time equivalent) of their research careers. This is measured from the date when they obtained the degree which formally entitles them to embark on a doctorate, either in the country in which the degree was obtained or in the country in which the research training is provided, irrespective of whether or not a doctorate was envisaged.


Conditions of international mobility of researchers: researchers are required to undertake trans-national mobility (i.e. move from one country to another) when taking up the appointment. At the time of selection by the host organisation, researchers must not have resided or carried out their main activity (work, studies, etc.) in the country of their host organisation for more than 12 months in the 3 years immediately prior to their recruitment. Short stays, such as holidays, are not taken into account.
English language:
Network fellows (ESRs) must demonstrate that their ability to understand and express themselves in both written and spoken English is sufficiently high for them to derive the full benefit from the network training.