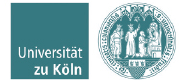 The University of Cologne offers a wide range of scientific disciplines and internationally leading profile areas organized in six faculties. At the Faculty of Medicine 1.800 scientists are engaged in research, ranging from basic sciences to clinical application, as well as teaching and health care. Together with the University Hospital Cologne the faculty maintains 58 clinics, research institutes and centres. 3.400 students study in this dynamic and innovative environment. The Faculty of Medicine and the University Hospital Cologne are embedded in the scientifically highly active Rhine region. They have strong contacts to and alliances with the surrounding universities and non-university research institutions guaranteeing scientific excellence in research and teaching. The
Department I of Internal Medicine
of the University Hospital Cologne is seeking applications for full-time
Postdoctoral researcher (f/m)
to be employed immediately under a contract (third party funded - 31 August 2021). The research group of Priv.-Doz. Dr. Dr. Roland Ullrich aims at discovering novel molecular targeted therapies in cancer. We apply biochemical and cell biological approaches, as well as various distinct genetically engineered mouse models of cancer to unravel drug synergies of targeted compounds. We are seeking for a highly motivated postdoc with a focus on the in vivo and in vitro functional characterization of drug efficacy for the treatment of lung cancer and lymphoma. The successful candidate will be driving individual projects and will work in a highly collaborative environment.
Your responsibilities will include:
Generation and analysis of new in vivo murine cancer models
Molecular analysis of murine and human cancer cells
Immunohistochemical staining
in vivo imaging (BLI, μCT- und MR-imaging)
Minimum qualifications:
MD or PhD in molecular biology
Experience in molecular biology, in vivo mouse models, immunohistochemistry and cell culture
We offer:
Cooperation with a competent and open, interdisciplinary team
Varied and challenging work in a highly interesting and challenging environment
Numerous internal and external training events on basic and special topics
Your salary will be based on TV-L. Applications from female candidates are welcome; suitably qualified women will be given preferential consideration. We also welcome applications from disabled candidates, who will also be given preferential consideration over other applicants with comparable qualifications. The position is suitable for staffing with part-time employees. Please address telephone enquiries to Priv.-Doz. Dr. Dr. Roland Ullrich at +49-221/478 89771. For further information please contact:
http://innere1.uk-koeln.de/forschung/krebstherapie-und-molekulare-bildgebung
Have we awakened your interest?
Please submit your application (including a detailed CV, list of publications, two references and a brief statement of research interests) here online
www.uk-koeln.de/karriere/stellenangebote
We prefer online applications,
but you also have the opportunity to apply via regular mail by
26 August 2018
quoting the reference number
e192-1
to
Uniklinik Köln
Klinik I für Innere Medizin
Krebstherapie und Molekulare Bildgebung
ZMMK Forschungsgebäude (Geb. 66)
Ausschreibungsnummer e192-1
Robert-Koch-Str. 21
50931 Köln