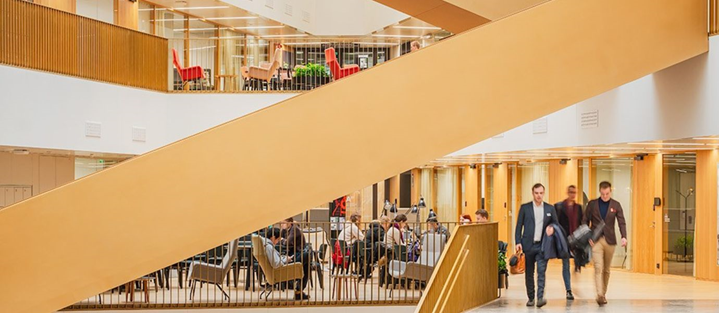 Application closes on
16.2.2020 Place
Place
Department of Marketing
Position
Tenure track
Aalto University is a community of bold thinkers where science and art meet technology and business. We are committed to identifying and solving grand societal challenges and building an innovative future. Aalto University has six schools with nearly 11 000 students and nearly 400 professors. Our campus is located in Espoo, Finland.
Aalto University School of Business (Aalto BIZ) is one of the leading business schools in Europe. The School has the three most significant international quality accreditations in the field. Aalto BIZ is an innovative and lively community of about 3500 students and 400 members of faculty and staff. The Shanghai Ranking recently ranked Aalto University as #29 in the world in the field of Business Administration (2019). At Aalto BIZ, we aim for societally relevant research and education for a sustainable future.
Professor in Marketing (Assistant / Associate / Full)
The Department of Marketing at Aalto University School of Business invites applications for the position of
Professor in Marketing
. The position can be filled at any level of the Aalto tenure track system (Assistant, Associate or Full Professor). While applications in all areas of marketing are welcome, special consideration will be given to candidates whose research and teaching focus on creativity and creative approaches to marketing. Relevant topics include, but are not limited to (in alphabetical order):
Arts, fashion, design, and other creative industries
Circular economy and sustainable consumption
Innovation processes and the development of new value propositions
New approaches to marketing analytics
New theories and concepts in digital marketing
Service innovations and service design
The candidate must show a track record of or potential for publishing in top research outlets. The university expects faculty members at all levels to conduct and guide scientific research, to provide high quality academic education, to follow advances in their field, to participate in service to the Aalto University community, and to take part in societal interaction and international collaboration in their field.
Aalto University is a multidisciplinary university that encourages research and teaching collaboration across disciplinary boundaries. A strong candidate for this position can thus show promise for initiating new cross disciplinary ventures within the University. The department is equally open-minded when it comes to research domains, methodological orientation and choice of publication outlets, though research synergies with current faculty are also favorably viewed.
The ideal candidate at the associate and full professor level will have demonstrable expertise in curriculum development and degree planning, along with a track record of applying for and managing competitive external research funding.
In terms of teaching, the candidate would typically teach two bachelor's or master's level courses per academic year, supervise theses, and commit to both personal and departmental pedagogical development.
Applicants should have completed or be close to completing their doctoral degree in marketing or a related field, such as any business-related field or sociology, anthropology, psychology, computer science, just to name a few.
The starting date is negotiable, but we hope the new professor could join the department in
August 2020
.
The Department of Marketing
The Department of Marketing is a vibrant community of academics that has recently been recognized as the leading marketing research unit in the Nordic region (Sihvonen and Vähämaa 2015). The unit's research and teaching strengths are in the areas of marketing strategy, consumer research, service design, retailing, and innovation management. The unit's strong research culture is built on a heritage of regularly held internal research seminars that attract international visitors, carefully cultivated ties to industry, and ambitious grant-based research projects. Teaching encompasses undergraduate, graduate, and doctoral levels, with the latter two levels taught in English. Marketing faculty are also sought-after lecturers at Aalto University's Executive Education programs. For more information, please visit
https://www.aalto.fi/en/department-of-marketing
Sihvonen, J., & Vähämaa, S. (2015). Business research in the Nordic countries: An analysis of research output across countries, disciplines, and institutions. Nordic Journal of Business, 64(4), 263-293.
Ready to apply?
If you want to join our community, please submit your application through the link below to our recruitment system Saima by February 16
th
2020. If you wish to hear more about the position, you can reach out to the Head of the Department, Professor Arto Lindblom, or in questions relating to the recruitment process, HR Coordinator Tiina Paronen-Viljanen. E-mails:
firstname.lastname@aalto.fi
.
To apply, please share the following application materials with us:
Cover letter (Application)
Curriculum Vitae
List of publications (with the most significant publications highlighted)
A research statement describing your past research and plans for future research and/or similar for artistic activities
Teaching portfolio
Names and contact details for four references
General instructions for applicants including language requirements and guidelines for compiling the teaching portfolio and CV are given at
https://www.aalto.fi/en/tenure-track/tenure-track-career-path
All material should be in English. The application material will not be returned.
Applications with attachments (in pdf-format) for the tenure track position are to be addressed to the President of Aalto University and submitted through the link below no later than February 16th 2020.
Aalto University reserves the right for justified reasons to leave the position open, to extend the application period and to consider candidates who have not submitted applications during the application period.
Tenure track in Aalto University
The tenure track is open to talented individuals who have excellent potential for a scientific career. Individuals placed on the Aalto University professorial tenure track have the possibility to advance in their career through regular performance assessments, which take into account their merits in all areas of their scope of duty. Launched only in 2010, the tenure track has attracted a wide range of international applicants, giving Aalto University the possibility of recruiting top experts and young research talent to join the Aalto University community. Read more about the Aalto University tenure track system at
https://www.aalto.fi/tenure-track