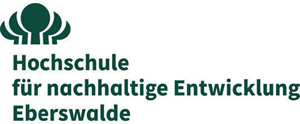 Applications are sought for a
Professorship in Environmental Big Data Analytics
(100 %, W2)
to join the Faculty of Forest and Environmentat Eberswalde University for Sustainable Development, Eberswalde, Germany, commencing in the winter semester 2020/21.
HNEE seeks applicants addressing current high impact topics across the spectrum of environmental and ecological data analytics.
Future professional fields of the students are e.g. forestry, land management and nature conservation, and they need to learn how to manage increasing and evermore complex data in a theoretical and practical perspective.
Applicants should have expertise in the development of innovative, practical approaches to environmental data mining, big data analysis, machine learning, and other highperformance computing applications. Further, and in line with the guiding vision of the Eberswalde University for Sustainable Development, they should initiate and foster a critical reflection on the relationship between digitalization and sustainable development in a comprehensive societal perspective.
Teaching comprises 18 SWS and strives for knowledge transfer and training of key competences according to the principles of Education for Sustainable Development including professional expertise and methodological knowledge as well as personal competences. This requires (academic) teaching experiences and didactic qualification.
Candidates must demonstrate well developed academic teaching and research abilities in data science and analytics with special expertise in applying and building high performance algorithms, and dealing with big datasets from sensor technology using advanced parallel computing platforms and tools in the environmental and ecological application domains, sensor programming and autonomous environmental sensor technology. Regarding practical application this includes multivariate statistics and data integration of complex heterogeneous qualitative and quantitative data sets with different frequencies (regarding time and space) and distributed on different media (maps, reports) and IT systems (tables, data bases, GIS).
We invite individuals with a strong commitment to teaching, experimental learning and mentorship exposing graduate and undergraduate students to the latest methods and technological advances, with the potential for interdisciplinary course offerings at the cutting edge of modern computer-assisted research, especially at the graduate levels. The professor's work shall inspire and stimulate creative thinking to develop practical solutions and innovative research ideas for up-to-date environmental big data analytics.
The successful candidate will be expected to contribute to HNEE's graduate programs (M.Sc.) 'Forest Information Technology', 'Biosphere Reserve Management' and 'Regionalentwicklung und Naturschutz' as well as – to some minor extent – to HNEE's undergraduate (B.Sc.) programs. The candidate shall strive for the funding and recruitment of doctoral students and applied research projects. An existing network comprising contacts to innovative research labs focusing on applied methods of "Big Data Analytics" or "Automated Sensor Technology" and international research and academic working experience in the field is an asset. Lectures are held predominantly in English, requiring excellent command of this language, but also in German. A further contribution to activities of HNEE academia self-governance is expected.
In accordance with section 41 of the Higher Education Act of the State of Brandenburg (BbgHG), the successful candidate must hold a qualified Ph.D., and must have particular achievements with regard to the application or development of scientific finding methods in a minimum of three years of practical work, thereof two years outside academia. The successful candidate is expected to tightly cooperate with the professorships involved in Environmental Data Analysis and Programming, GIS and Remote Sensing, and other professorships in the new Ph.D School.
Applications should include a curriculum vitae, a list of publications and projects, a concept note on future research, teaching and transfer interests as well as a description of the three most important academic achievements (max. half page each). In addition to academic research results, these can also include special achievements in teaching services for the academic community or society, knowledge and practice transfer, spin-offs and the like in the topical field of Environmental Big Data Analytics.
Applications are particularly welcome from women and individuals with disabilities.
For further questions please contact Prof. Dr. Tobias Cremer (Dean) (E-Mail:
Tobias.Cremer@hnee.de
or tel. +49 3334 657 166).
Please send your application by email (as one pdf-document with max. 3 MB) within 4 weeks after publication of this advertisement with all the required documents to the following address:
stellenbewerbung@hnee.de
, Hochschule für Nachhaltige Entwicklung Eberswalde, Abteilung für Personalangelegenheiten, Schicklerstr. 5, D-16225 Eberswalde
German version of job advertisement:
https://www.hnee.de/de/Aktuelles/Stellen-Ausschreibungen/Stellenausschreibungen-K1283.htm