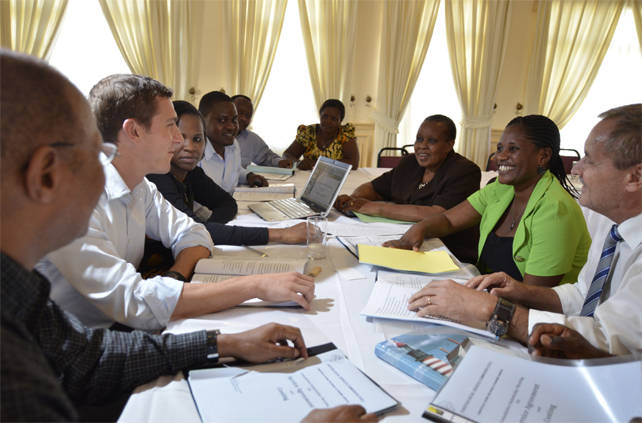 Programme component manager (m/f/d) Rectorate of the Pan African University
As a federal enterprise, GIZ supports the German Government in achieving its objectives in the field of international cooperation for sustainable development.
Job-ID:
P1532V054
Location:
Yaoundé
Assignment period:
12/01/2018 -
02/28/2019
Field:
Social Sectors
Type of
employment:
full-time
Application
deadline:
10/31/2018
Job description
The Federal German Ministry of Economic Cooperation and Development supports the African Union Commission in setting up the Pan African University (PAU). The PAU is a continental network university striving for excellence and contributing to core fields of Africa's development. The emphasis is on the training of graduates and doctoral candidates as well as on applied research, outreach and policy advice. The GIZ program is supporting the Rectorate that has recently been relocated to Yaoundé, Cameroon. The focus is on the implementation of the strategic plan including financial sustainability, the orientation towards relevance, quality and Pan African integration. Governance and decision-making processes as well as approaches for academic quality assurance, digital education and human resource development are supported.
Your tasks
Advising the PAU Rectorate on operationalization and implementation of the strategic plan
Supporting processes of organizational development driven by the PAU Rectorate across the five regional locations of the network University
Supporting measures for achieving financial sustainability
Coordinating the advisory to the Rectorate provided by GIZ on other core institutional processes such as quality assurance, human resource development, governance and accountability, internal communications and outreach
Supporting the linkages of the PAU with the African Union policy agenda and reform needs in the African higher education sector
Collaboration and coordination with the GIZ project team across project locations
Responsibility for the management of the programme at the location in Cameroon (finances, coordination with the Country Office, security)
Supervision of a small team on site
Your profile
Master degree in a relevant field in economic, social sciences or education
Longstanding professional experience in organizational development and institution building in a higher education context
Experience in quality assurance frameworks and quality management systems
Experience in cooperation between higher education and the private sector, employment orientation of higher education
Working experience in an international and intercultural setting and a high-level political context, ideally in Africa
Leadership and team working skills, ability to motivate and mobilize staff
Excellent advisory and communication skills
Business fluency in French, English and German are essential
Location information
The location Yaoundé in Cameroon is suitable for families with children. The climate is tropical. There are international schools (English and French). The primary health care is adequate. There are daily flights to Europe.

The security situation requires increased alertness. There are special security risk mitigation measures applying to GIZ staff on-site. All staff must follow GIZ security instructions at any time. Please also read up on county-specific advice provided by the German Federal Foreign Office.
Notes
Frequent travels within Africa (mainly Ethiopia, Algeria, other locations of the PAU) are nesessary.


Please understand that we can accept and process in principle only applications via our E-recruiting system. Following the confirmation of your successful application, kindly check your spam / junk mail folder on a regular basis, since some provider classify emails from our recruiting system as spam.

GIZ would like to increase the proportion of employees with disability, both in Germany and abroad. Applications from persons with disabilities are most welcome.
Our benefits
We are a global service provider within the field of international cooperation for sustainable development. We offer you the opportunity to deploy your technical know-how at one of our locations in more than 130 countries., Diversity and respect are key elements of our corporate culture: GIZ promotes and supports every individual and in this way safeguards the individual opportunities for all employees, irrespective of sex, nationality or religion. Naturally, our management team is made up of both men and women., During the preparation phase, you will receive initial insights into GIZ and the local conditions. This ensures you are as well prepared as you can be for your placement. You have the opportunity to contact other new starters, and to expand and develop your personal network., We are happy to support your professional development, for example with the training provision of the Academy for International Cooperation (AIZ), the leading provider of international skills development., We are convinced that employees need a healthy balance between their private and professional lives. This is why we offer childcare allowances and support to accompanying partners. Our family-friendly nature also extends to situations where relatives are in need of care. As part of its family-friendly staff policy, GIZ aspires to support employees while they are carrying out their work., Our flexible working hours offer you the time and the flexibility to reduce the overtime you work in agreement with your manager. If necessary, we will find even more flexible working hours for individual employees., Do you need a longer period off? We have a special part-time block model which also allows you to take a leave of absence lasting several months. You can save up your working time credit over a longer period and work it out within the framework of an exemption., You will receive a medical check-up, as well as detailed advice on precautionary measures, vaccinations and malaria prevention. Every two years, you and your accompanying family members will receive a precautionary check-up. The medical service is available in emergencies for employees domiciled in Germany. It also provides advice for ergonomically designed workplaces. , We set common objectives for the new year in our annual employee meetings. If you achieve these objectives, you may receive an additional variable payment., If you are required to work abroad for a period of time, you will receive an overseas supplement as reimbursement for your additional expenses. The amount of the overseas supplement depends on where you are located. , We have a comprehensive package of services for partners and other relatives who relocate with you, for example medical check-ups, travel costs to and from the location or language courses. This includes seminars at the Academy for International Cooperation on regional studies or on the topic of 'Emigrating with Children'., GIZ will pay an allowance for education which will cover a significant portion of the school costs which are due. This therefore guarantees that your children will be able to attend a mainstream school where you are located and work towards completion of the Abitur (British A-level equivalent) or a qualification which is comparable to the German Abitur., If you have not yet found somewhere suitable to live when you travel to your placement, it is also possible to stay in a hotel in the short term. An allowance for hotel costs will be paid for this. For the duration of the employment abroad, GIZ will pay an allowance for rent in the place of employment.
About us
We create prospects for people and with people. As GIZ has an international mandate, we offer a multicultural working environment. We are committed service providers and dedicated professionals, even under difficult circumstances. We take pride in enabling our employees to develop their professional and personal skills. There are plenty of reasons to join our motivated team – ranging from the diverse challenges you will face on a daily basis in one of our 130 partner countries, to the broad scope you will have for shaping your work.