Research Group Leader / Young Investigator Group Leader (m/f/d)

in Artificial Intelligence for Earth System Analytics and Modelling
code no. 2019/KS 9
The place of employment is Geesthacht (Germany).
Our Institute of Coastal
Research invites applications for a 5-year Research Group Leader/ Young Investigator Group Leader (m/f/d)
position in the field of Artificial Intelligence in Earth System Analytics and Modelling. The position is part of the local hub of the Helmholtz Artificial Intelligence Cooperation Unit, for further information see:
https://www.haicu.de/
. The HAICU-Local Unit Artificial Intelligence for Earth System Analytics and Modelling will focus on the application of advanced machine learning methods to Earth System and Climate Science, specifically focusing on Earth System Analytics, Earth System Modelling and Predictability. Preferred starting date is as soon as possible, ideally not later than January, 1st 2020. A connection of the position to the University of Hamburg with teaching responsibility and the right to supervise and examine PhD candidates is desired; all details of this connection can be negotiated, based on personal qualifications. A
joint W2 appointment procedure with the University of Hamburg
is not excluded. HZG is moreover strongly involved in the Cluster of Excellence Climate, Climate Change and Society CliCCS at the University of Hamburg together with the Max-Planck Institute for Meteorology and other partners. The activity of this group will likely be highly relevant for several cluster projects and contributing to societal relevant climate research and support societal adaptation to climate change.
Background
The Helmholtz-Association initiated the Helmholtz Artificial Intelligence Cooperation Unit (HAICU). This future-oriented network for applied Artificial Intelligence will develop, implement, and disseminate methods of Artificial Intelligence for purposes including the analysis of complex systems in the fields of energy, transport, climate, and health. HAICU consists of an internationally visible, central unit in Munich and five local units at further Helmholtz Centers that focus on specific HGF research areas. To boost the broad application of new powerful Machine Learning algorithms to Earth System Science, the HAICU local unit 'Artificial Intelligence Innovation for Earth System Analytics and Modelling (AIM)' has been established at the Helmholtz-Centre Geesthacht (HZG) and the German Climate Computing Centre (DKRZ) in Hamburg. AIM consists of a Research Group (RG) / Young Investigator Group (YIG) and an AI Consultant Group. The RG / YIG Group will be based within the research unit System Analysis and Modelling (head Prof. Corinna Schrum) at the Institute of Coastal Research in Geesthacht. A focus of the RG / YIG will be on deep learning for improving predictions of extremes and climate change. Further topics are application of machine learning for data assimilation and reduced-complexity models. The application-oriented research will be conducted in close collaboration with other research departments at HZG, including the Climate Service Center Germany (GERICS) in Hamburg, as well as other collaborating institutions.
Your tasks
lead the AIM Research Group / Young Investigator Group on application of AI to environmental and climate research
development and implementation of AIM research projects in close collaboration with scientists at the unit and beyond
supervision of PhD candidates and Postdocs within the Group
report on quality measurements and control mechanisms based on defined criteria and milestones
ensure intensive exchange with AI consultants at DKRZ and HAICU Central and other HAICU local units and foster cross-topic collaboration
Essential qualifications
M.Sc. and PhD in geoscience-related subjects, mathematics or computer science or related disciplines
strong scientific track record and ideally experience in mentoring and teaching and / or outreach
high degree of creativity and flexibility; enjoying independence and creative freedom
strong interest and previous experience in complex machine learning tasks and in application of supervised and unsupervised learning techniques
ability to identify and apply application dependent complex machine learning techniques to coastal and climate research challenges, making use of existing expertise within the HAICU units
strong communication skills and ability to work in an interdisciplinary team
Desirable qualifications
experience/expertise in oceanography, meteorology or environmental research and experience with big data applications such as Regional Climate and Earth System Models and/or Earth Observation, and data assimilation will be an advantage
We offer
multinational work environment with over 950 colleagues from more than 50 nations
extensive options of vocational training (i. a. expert seminars, language courses or leadership seminars)
flexible working hours and various models to ensure the compatibility of family and career
excellent infrastructure, including a scientific in-house library as well as modern work spaces
remuneration according to the standards of the collective wage agreement TV-AVH including further social benefits, up to remuneration group 15 (according to EntgO Bund)
Moreover, a 5-year start package is offered, enabling the establishment of the research group / young investigator group. After successful evaluation, a permanent position at HZG will be offered, a research package can be negotiated. Geesthacht is located 35 km southeast of Hamburg in Northern Germany. Its location combines proximity to Germany's second largest city and its cultural offerings with easy access to numerous outdoor activities in a beautiful setting. We are a family-friendly employer and operate our own kindergarten on campus.
The promotion of equal rights is a matter of course for us. Severely disabled persons and those equaling severely disabled persons who are equally suitable for the position will be considered preferentially within the framework of legal requirements.

The
Helmholtz-Zentrum Geesthacht (HZG)
in Geesthacht near Hamburg and in Teltow near Berlin, conducts materials and coastal research. For further information please refer to:
www.hzg.de
HZG
is one of the 19 national institutions of the Hermann von Helmholtz Association of German Research Centres e.V. (HGF). Around 950 employees carry out basic research and development work in close cooperation with national and international research institutions, research-oriented clinics and economic and public institutions.
At the
Institute of Coastal Research
about 150 scientists research processes on the coast and interactions between the land, the sea and humans. The objective of the three sub-institutes "Biogeochemistry in Coastal Seas", "Operational Systems" and "System Analysis and Modelling" is to create the scientific basis for sustainable development and future-oriented management of the coasts.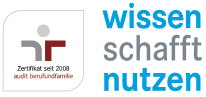 For inquiries, please contact
Prof. Dr. Corinna Schrum
(
Corinna.Schrum@hzg.de
)
Interested?
Please send your application indicating job offer code no. 2019/KS 9 including your CV, description of your scientific expertise, publication list, copies of credentials including grades, and contacts of three reference persons by e-mail in one pdf-file not larger than 10 MB to
personal@hzg.de
.
August 25th, 2019
Workplace: Geesthacht
Contact: Erika Krüger
personal@hzg.de