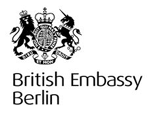 Strategic Communications and Marketing Lead
The British Government is an inclusive and diversity-friendly employer. We value difference, promote equality and challenge discrimination, enhancing our organisational capability. We welcome and encourage applications from people of all backgrounds. We do not discriminate on the basis of disability, race, colour, ethnicity, gender, religion, sexual orientation, age, veteran status or other category protected by law. We promote family-friendly flexible working opportunities, where operational and security needs allow.
Job Description (Roles and Responsibilities)
The British Embassy in Berlin is part of a world-wide network, representing British political, economic and consular interests overseas. The Department for International Trade (DIT) is seeking to appoint a
Strategic Communications and Marketing Lead
, based in Berlin to support the broader European Region.
The Department for International Trade (DIT) is responsible for promoting British trade across the world. DIT Europe works to help UK-based businesses export to the EU and to encourage the best European businesses to invest in the UK. This is an exciting time to join DIT, as you will have the opportunity to shape the UK's international trade agenda and foster UK growth.
DIT Europe has an exciting opportunity for a confident, motivated and experienced Strategic Communications and Marketing Lead. You will have a strong professional background and be responsible for coordinating activity across Europe, supported by a virtual team of 7 embedded across European countries. Reporting to the DIT Europe Board, the job-holder will be responsible for strategic communications and marketing across Europe, promoting the UK Government's global "GREAT Britain and NI" campaigns, the GREAT Friends campaign and the Government's Industrial Strategy to underpin delivery of the Regional Trade Plan for Europe. Your objectives would be to promote the UK as a first-class destination for inward investment, as an export superpower as well as increasing the reputation of DIT as a source of expertise, influence, impact and reach.
This is one Regional position advertised in 3 main countries: Germany/Berlin; Poland/Warsaw and Italy/Milan, the successful candidate will be based in the location that he/she applied.
The main objectives for this role are to:
Regionalise DIT Europe's Strategic Communication and Marketing programme to support the delivery of the Europe Regional Trade Plan applying an agnostic channel strategy underpinned by insight and analysis working to an agreed evaluation framework;
Set strategic direction for, co-ordinate, lead and empower a virtual marketing team of 7 embedded across Europe;
Demonstrate leadership through effective Internal Comms establish a collaborative culture across Europe, focussing on prioritisation of activities whilst supporting the wider marketing community;
Plan, agree and execute delivery of strategic communications leveraging "GREAT Britain and NI" campaigns, the GREAT Friends campaign and the Government's Industrial Strategy reflecting the evidence-base and audience insight held. Ensuring value for money, quality control and guardianship of the GREAT brand as well as appropriate activity reporting;
Strengthen and develop the DIT relationships with key multipliers, organisations, agencies and European companies to help achieve DIT business objectives, simultaneously contributing to raising our profile;
As primary communication and marketing lead, champion the relationship between Europe, HQ in London, and the other eight DIT global regional leads ensuring consistency, alignment and collaborative thinking;
Work with the Foreign and Commonwealth Office Press and Public Affairs networks to produce compelling strategic communications and impactful events that demonstrate value for money;
Demonstrate a commitment to self-development and developing others, building long-term staff capability and competency in and beyond own team;
Essential qualifications, skills and experience
Proficiency in English and German (written and spoken, minimum of C2 level for CEFR framework*);
At least University degree, preferably in marketing and communications;
At least 5 years of work experience in strategic and marketing/communications;
Proven record of delivering strategic marketing and communications campaigns across multiple markets and working with regional teams;
Marketing/event management skills and experience;
Excellent communications skills and an ability to influence senior leaders and stakeholders;
Understanding of the business and investment climate in the UK and Europe;
Project management skills and experience;
Budget management skills and experience;
Proven track of leading/managing teams;
Desirable qualifications, skills and experience
Experience of working with a virtual, networked team;
Required competencies
Seeing the Big Picture, Changing and Improving, Leading and Communicating, Managing a Quality Service
Application deadline:
18 November 2018
Grade:
C5 (L)
Type of Position:
Fixed Term, Temporary
Working hours per week:
37.5
Duration of Post:
24 months
Region:
Europe, Eastern Europe & Central Asia
Country/Territory:
Germany
Location (City):
Berlin
Type of Post:
British Embassy
Number of vacancies:
1
Starting yearly salary (EUR):
€ 99,720 gross per annum rising to approx € 112,015 gross per annum after a qualifying period in addition to performance related pay. (Salary is not negotiable)
Start Date:
4 February 2019
Other benefits and conditions of employment
This is a full-time position of five working days 37.5 hours per week, for a contract period of two.
Staff recruited locally by the British Embassy in Germany are subject to Terms and Conditions of Service according to local German employment law.
The British Embassy in Berlin has a strong ethos of Learning and Development, including our Learning and Development Week. In addition, there will be many opportunities to attend external seminars and events on relevant issues. This is in addition to the induction programme offered to all Embassy staff.
The successful applicant will be encouraged to be actively involved in the corporate life of the Embassy, contributing to the wider objectives of the British Government's Germany network and supporting the Embassy's positive working environment.
Visa/passport requirements: Must currently hold the independent right to live and work in Germany and be prepared to ensure that right remains throughout the scope of the contract.
Additional information
The successful candidate will be subject to professional background check and security clearance.
* Please note Common European Framework of Reference for Languages: Learning, Teaching, Assessment indicates Level C2
as Mastery or proficiency Level which comprehends that a person can understand with ease virtually everything heard or read; can summarize information from different spoken and written sources, reconstructing arguments and accounts in a coherent presentation; can express themselves spontaneously, very fluently and precisely, differentiating finer shades of meaning even in the most complex situations. For more information please click on the following link
CEFR
.
Please bear in mind in case you are invited for an interview your languages skills are going to be assessed.
Please note that the deadline for applications is 23:55 on the day mentioned in the above field "Application deadline". We advise you to allow enough time to complete and submit your full application, since only applications completed and submitted before the deadline will be considered.
Please be aware that the deadline for submitting applications is considered to be the time zone for the country where the vacancy has arisen.
Please be advised that the British Embassy will not be able to meet the travel costs incurred when travelling to the interview, nor the costs connected with relocation if offered a job.
Please be aware that you will only be able to apply to vacancies for Local Staff roles with the British Government through this official tal.net site (operated by Oleeo). Jobs may be advertised on third party websites, however our adverts will always link back to the official tal.net site. If you complete and send an application through any other site, we will not receive it.