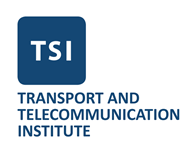 SELECTION OF FOREIGN ACADEMIC STAFF
Transport and Telecommunication Institute (TTI) in the frame of European Social Fund project "Strengthening Transport and Telecommunication Institute Academic Staff in the Areas of Strategic Specialisation" (No 8.2.2.0/18/A/011) is announcing the second round of
the selection of foreign academic personnel for the
academic year 2019/2020 in the following fields of study:
"Information Technologies, Computer Hardware, Electronics, Telecommunications, Computer Control/Management and Computer Science";
"Mechanics and metalworking, heat energy, heat engineering and mechanical engineering";
"Transport services";
"Management, administration and real estate management" - due to the implementation of the new professional Master's study program "Aviation Management"".
Areas of work and study courses, the implementation of which is intended to attract foreign academic staff
Application deadline: March 5, 2020
Main requirements for foreign academic staff:
a person has experience in academic work in foreign high education institution in last 5 years;
a person has other relevant experience in educational field;
a person has good cooperation experience with academic, scientific, professional institutions and/or enterprises in Latvia and/or abroad;
a person has research experience and publications in corresponding or related field of research;
a person has experience in academic or research projects;
a person has experience in supervision of students' research papers/thesis (as an advantage);
a person would like to continue academic work in TSI after the end of the support in the frame of the project (as an advantage);
a person has good English skills (at least C1 level according to Europass language pass) and ability to use language skills in teaching process and methodological work.
Applicants are expected to meet the following evaluation criteria
Financial terms and contract:
Remuneration to foreign academic staff within the scope of the project according to work load, but not exceeding gross 4,000 euro per month.
1-hour rate ranges from 80 till 100 euro gross, including staff travel and accommodation expenditures.
TSI will provide a temporary employment contract of not less than 6 months with possibility to continue cooperation in the academic field after the end of the project. TSI will provide a flexible working schedule and possible involvement in international research and innovation projects.
Administrative and language support:
The TSI orientation activities for foreign academic staff will be implemented by representatives of the relevant department, faculty and the International Relations Department.
TSI will provide by choice to foreign academic staff acquisition of the Latvian language - different levels of acquisition, using teaching materials developed by the Latvian Language Agency for foreigners.
Place of Employment and Place of Work:
Lomonosova street 1, Riga, Latvia.
Application procedure:
Application letter (Annex 1 of the Regulation), CV (in English, preferably in Europass format), including language passport and other information necessary according to application's assessment criteria, course description (Annex 2 of the Regulation), statement of foreign higher education (except Latvia) regarding employment in an academic position over the last five years, and other documents (optional) testifying to the skills, knowledge and capacity of the applicant, has to be sent to the email address
pro822@tsi.lv
. In case application is submitted in paper version documents has to be sent to the address - Transport and Telecommunication Institute, Lomonosova iela 1, Riga, LV-1019, Latvia, room No 301. The envelope should content the notice "Application for the open competition selection of foreign academic staff, 2nd round" and name of the Applicant.
More information about the announcement is here:
Regulation
Annex 1 "Application Form for Selection Procedure";
Annex 2 "Description of the Study Course/Syllabus";
Annex 3 "Applicant's Evaluation Sheet".
Based on the Article 13 of Regulation (EU) 2016/679 of the European Parliament and of the Council of 27 April 2016 on the protection of natural persons with regard to the processing of personal data and on the free movement of such data, and repealing Directive 95/46/EC, Transport and Telecommunication Institute informs that the personal data indicated in the application document will be processed in order to ensure the conduct of this selection process and the above-mentioned personal data processing controller is Transport and Telecommunication Institute.
Transport and Telecommunication Institute (TTI)
TTI is a modern university with the almost centennial history. In the present-day appearance TTI was established in 1999.
In TTI students can get higher professional education in 3 faculties (Computer Science and Telecommunication, Management and Economics, Transport and Logistics) of first and second levels, bachelor and master degrees, prepare and defend a doctoral dissertation.
TTI is conducting the diversified
research scientific work
. According to the results of expert evaluation Transport and Telecommunication Institute is the only one among private colleges included in the list of leading scientific institutions, acting in Latvia.
Total amount of institute graduates - more than 7500. Current number of students - about 3000. Learn more about TTI at
http://www.tsi.lv/en
.
Learn more about the ESF project
here


Please apply online here