Instrument Scientist (m/f/d)
code no. 2019/WP 4
The place of employment is Hamburg (outstation at DESY).

Helmholtz-Zentrum Geesthacht operates an outstation at DESY in Hamburg in order to provide access to highly brilliant synchrotron radiation within its German Engineering Materials Science Center (GEMS). At the PETRA III synchrotron radiation source, Helmholtz-Zentrum Geesthacht operates the High Energy Materials Science Beamline (HEMS, P07; jointly with DESY), the Imaging Beamline (IBL, P05) and the Nanofocus Endstation of the Micro and Nanofocus X‑ray Scattering Beamline (MINAXS, P03; jointly with DESY) along with supporting laboratories (
www.gems.hzg.de
). Recently, DESY has extended PETRA III with two extensions. DESY and HZG are building the new beamline P61 at one of the extensions for use with white X-ray beams. The HZG part (P61A) of the beamline will focus on engineering materials research. Among others, experiments for residual stress analysis and spatially and time-resolved phase analysis will be offered to users. The beamline is expected to start user service in 2020. Within this framework we are looking for a PostDoc as
Instrument Scientist (m/f/d)
at the new white-beam beamline. The position will initially be limited to three years with the option of an extension.
The place of employment is Hamburg (outstation at DESY).
Your tasks:
commissioning and running the new beamline
implementing relevant software and developing new software for data reduction and analysis
organize and carry out the user service at the beamline
pursue own scientific research in the field of engineering materials science within the scope of our Helmholtz programme-oriented funding
designing experiments and sample environments for in-situ experiments together with external cooperation partners and in‑house researchers
acquisition of scientific collaborations
presenting and publishing scientific results
Required qualifications:
PhD in physics or a related discipline
experience with synchrotron beamline instrumentation and sample environments (experience with white beam techniques will be beneficial)
programming skills in a high level computer language
experience in materials science
experience with diffraction techniques, especially residual stress analysis (experience with white beam techniques will be beneficial)
capability of analyses of large amounts of data
excellent communication skills
good German and English language skills
We offer:
multinational work environment with over 950 colleagues from more than 50 nations
extensive options of vocational training (i. a. expert seminars, language courses or leadership seminars)
flexible working hours and various models to ensure ensure the compatibility of family and career
excellent infrastructure including modern work spaces
remuneration according to the standards of the collective wage agreement TV-AVH including further social benefits

The promotion of equal rights is a matter of course for us. Severely disabled persons and those equaling severely disabled persons who are equally suitable for the position will be considered preferentially within the framework of legal requirements.

The
Helmholtz-Zentrum Geesthacht (HZG)
, in Geesthacht, near Hamburg, and in Teltow, near Berlin, conducts materials and coastal research. You can find more information at:
www.hzg.de
.
HZG
is one of the 19 national institutions of the Hermann von Helmholtz Association of German Research Centres e.V. (HGF). Around 950 employees carry out basic research and development work in close cooperation with national and international research institutions, research-oriented clinics and economic and public institutions. At the
Institute of Coastal Research
about 150 scientists research processes on the coast and interactions between the land, the sea and humans. The objective of the three sub-institutes "Biogeochemistry in Coastal Seas", "Operational Systems" and "System Analysis and Modelling" is to create the scientific basis for sustainable development and future-oriented management of the coasts.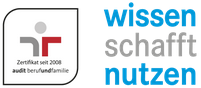 For inquiries, please contact
Dr. Peter Staron (
peter.staron@hzg.de
)
Interested?
Please send your application by e-mail indicating job offer
code-no. 2019/WP 4
as one single pdf file including motivation letter, CV, list of publications and relevant certificates.
Apply now
Closing date:
May 12th, 2019
Workplace: Hamburg
Contact: Erika Krüger
personal@hzg.de