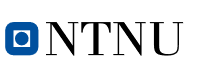 8 available PhD positions within various topics related to ultrasound technology
The
Department of Circulation and Medical Imaging
at NTNU in Trondheim,
Centre for Innovative Ultrasound Solutions
(CIUS) is announcing 8 PhD positions within various topics related to ultrasound technology. The PhD positions are a fixed term, full time (100 %) position for 3 years starting in autumn/winter 2020-2021.
CIUS is a
Centre for Research-based Innovation
(SFI), funded for 8 years by the
Research Council of Norway
, and is a collaboration between 11 ultrasound industry companies, 3 universities and a university college, SINTEF, and 4 public health partners. CIUS also has a large multidisciplinary research environment, collaboration with the University of Oslo (UiO) and the University College of South-East Norway (USN) in Horten.
The positions offer inspiring and motivating tasks in an international and inclusive environment characterised by open, committed and engaged researchers, both at the university and among the industry employees. You will be working in close collaboration with our industry partners, aiming for the research to become innovative solutions that will be used in practise in the future.
The PhD projects form a range of highly relevant and innovative topics in medical, maritime and oil & gas applications, and will employ theory and methods from physics and acoustics, signal and image processing and artificial intelligence (AI)/machine learning.
You will work with applications for more accurate and efficient imaging of the human heart, improved non-destructive testing using ultrasound, novel characterization of heart muscle fibrosis using methods enabled by our state-of-the-art ultrasound equipment, automatic classification of the sea bed using SONAR, and flow monitoring and measurement in both oil wells and the human heart. It is an explicit aim in CIUS that we seek synergies between all application areas.
Find details about the positions here
Required selection criteria
The PhD-position's main objective is to qualify for work in research positions. The qualification requirement is that you have completed a master's degree or second degree (equivalent to 120 credits) or equivalent education with a grade of B or better in terms of
NTNU's grading scale
. If you do not have letter grades from previous studies, you must have an equally good academic foundation. If you are unable to meet these criteria you may be considered only if you can document that you are particularly suitable for education leading to a PhD degree.
A master's degree or equivalent education from acoustics, physics, mathematics, signal processing, electronics, computer science, engineering, maritime engineering or petroleum engineering with a weighted-average grade of B or higher, in accordance with NTNU's grading system
Good English skills, spoken and written
The successful candidate holds an MSc degree with emphasis on theory and methods from acoustics, (bio)physics, mathematics, signal processing, electronics, or computer science. CIUS aims to be a world-leading centre for research and innovation in next-generation ultrasound technologies. Candidates for this position will be selected in accordance with this aim.
Good analytical and programming skills are important. For some projects, it is imperative that the candidate has a proven ability to work in an experimental setting and is willing and interested in doing laboratory work. Besides technical skills, we are looking for a curious, ambitious candidate who is highly self-motivated to do research and contribute to the innovative work carried out in CIUS. Good communication skills in both oral and written English are expected (see details on formal English requirements below).
The application is to be accompanied by a cover letter explaining how your background and education fit the goals and requirements of the selected project(s) from the list above. Please mark specifically in the application which project(s) you are most interested in.
Preferred selection criteria
Experience within the field of ultrasound in either medicine or industrial applications
Experience with methods and / or theory for one of the specific projects listed
Prior written, scientific output with relevance
Personal characteristics
Good communication abilities
Besides technical skills, we are looking for a curious, ambitious candidate who is highly self-motivated to do research and contribute to the innovative work carried out in CIUS
In the evaluation of which candidate is best qualified, emphasis will be placed on education, experience and personal suitability.
We offer
Salary and conditions
PhD candidates are remunerated in code 1017, and are normally remunerated at gross from NOK 479 600 per annum before tax, depending on qualifications and seniority. From the salary, 2% is deducted as a contribution to the Norwegian Public Service Pension Fund.
Appointment to a PhD position requires that you are admitted to the PhD programme within three months of employment, and that you participate in an organized PhD programme during the employment period.
The engagement is to be made in accordance with the regulations in force concerning State Employees and Civil Servants, and the acts relating to Control of the Export of Strategic Goods, Services and Technology. Candidates who by assessment of the application and attachment are seen to conflict with the criteria in the latter law will be prohibited from recruitment to NTNU. After the appointment you must assume that there may be changes in the area of work.
Candidates from universities outside Norway are requested to send a Diploma Supplement or similar official document, which describes in detail the study and grade system and the rights for further studies associated with the obtained degree:
https://europass.cedefop.europa.eu/documents/european-skills-passport/diploma-supplement
.
Candidates from non-English speaking countries outside the Nordic countries must provide official documentation of their English competence. Approved tests and results are:
TOEFL: 600 / writing 4.5 (paper-based test), 92 / writing 22 (internet- based test)
IELTS: 6.5, with no section lower than 5.5 (only Academic IELTS tests accepted)
Cambridge Certificate in Advanced English (CAE) or Cambridge Certificate of Proficiency in English (CPE): grade A or B
It is a prerequisite you can be present at and accessible to the institution on a daily basis.
About the application
The application and supporting documentation to be used as the basis for the assessment must be in English.
Publications and other scientific work must follow the application. Please note that applications are only evaluated based on the information available on the application deadline. You should ensure that your application shows clearly how your skills and experience meet the criteria which are set out above. Joint works will be considered. If it is difficult to identify your contribution to joint works, you must attach a brief description of your participation.
A good work environment is characterized by diversity. We encourage qualified candidates to apply, regardless of their gender, functional capacity or cultural background.
NTNU has a goal of ensuring a gender and age balance and to recruit candidates with a minority background. We therefore encourage all qualified candidates to apply, regardless of their gender, age, functional capacity or cultural background. If necessary, we will adapt the workplace for people with disabilities. Norway and NTNU offer strong family-friendly and life-balance polices, see:
https://innsida.ntnu.no/wiki/-/wiki/English/Policy+for+Gender+Equality+and+Diversity+2018-2021
http://www.nyinorge.no/en
https://www.norge.no/en
https://www.ntnu.edu/lifeandhousing/trondheim/practical-information
For more information regarding moving to NTNU:
http://www.ntnu.edu/nirs
NTNU is committed to following evaluation criteria for research quality according to
The San Francisco Declaration on Research Assessment - DORA
.
Information Act (Offentleglova), your name, age, position and municipality may be made public even if you have requested not to have your name entered on the list of applicants.
Please submit your application electronically via jobbnorge.no with your CV, diplomas and certificates. Applications submitted elsewhere will not be considered. Diploma Supplement is required to attach for European Master Diplomas outside Norway. Chinese applicants are required to provide confirmation of Master Diploma from
China Credentials Verification (CHSI)
.
If you are invited for interview you must include certified copies of transcripts and reference letters.
General information
As an employee at NTNU, you must at all times adhere to the changes that the development in the subject entails and the organizational changes that are adopted.
For further information about the positions, please contact either:
Industry liason and researcher, Svein-Erik Måsøy, telephone: +47 92625082 or email:
svein-erik.masoy@ntnu.no
.
Professor, Lasse Løvstakken, telephone: +47 91347206 or email:
lasse.lovstakken@ntnu.no
.
For information concerning the application process, please contact: HR Consultant Julie Hoff, telephone: + 47 72576984, email:
julie.hoff@ntnu.no
.
If you are invited for interview you must include certified copies of transcripts and reference letters.
Application deadline: 31.05.2020
Apply here