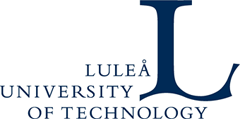 PhD student position in Entrepreneurship and Innovation
Lulea
Ref:
1755-2017
The research group Entrepreneurship and Innovation now seeks one to two PhD students in a project focusing on sustainable business model innovation and digitalization in Swedish industries. Established in 2006 the Entrepreneurship and Innovation group at Luleå University of Technology undertakes research on organizational development with a specific focus on firm development based on innovative products, services, production solutions or management modes. Hosting close to 25 academics in entrepreneurship and innovation, the group offers a broad competence base. Our vision is to be an international centre for developing and disseminating ideas of the future in entrepreneurship and innovation". With high individual strengths and developed methods for forming smaller work teams, the group is flexible in taking on a wide range of research projects. The group partners with large national and global companies, SMEs, policy communities and research groups. Research findings are developed in close cooperation with well reputed industry partners and communicated through academic publications, conferences, and workshops.
Subject description
Entrepreneurship and Innovation comprises organizational development with a specific focus on firm development based on innovative products, services, production solutions or management modes.
Project description
Sustainability and new forms of collaboration are of great importance for increased competitiveness in Swedish business. Digitization brings new forms of value creation, but many companies lack the necessary business knowledge to transform new digital solutions into commercially attractive offers. A key challenge is therefore to take advantage of digital opportunities. This can be achieved by creating new sustainable business models for advanced services in networks of collaborating actors.
This project aims at developing, testing and spreading methods for developing sustainable business models in networks within Swedish business. The project group includes researchers and 20 companies such as Boliden, Volvo, ABB and Ericsson.
The companies are found in networks in several different areas of Swedish business, all aimed at more sustainable business relations. All networks include leading companies and their customers. Visions and ideas exist, but the actors currently lack commercially attractive and sustainable business models to commercialize solutions in collaboration.
A significant part of the project is focused on addressing business needs by mapping challenges and deficiencies as well as proposing methods for improvement. The mission is to create a basis for industrial development and communicate this with participating companies through workshops, education and manuals.
Duties
You will work in a research project that involves close collaboration between researchers and business.
Your duties will be to plan and conduct research that deals with sustainable business model innovation within the Swedish business community.
You will be planning and conducting empirical studies over time, writing both scientific and popular science articles.
You will be responsible for relationship building, interaction and analysis to support practical development work with companies.
During your education you will also participate in research courses, both in scientific methodology and theoretical perspectives in entrepreneurship, innovation and business development.
Completed postgraduate studies after the equivalent of four years of full-time doctoral education (consisting of approved doctoral programs as well as an independent doctoral dissertation) results in a PhD in Entrepreneurship and Innovation.
Qualifications
The appointment will be evaluated based on the ability to successfully undertake postgraduate education (Higher Education Ordinance 5 ch. 5). Appropriate background is an master's degree in business administration, a master's degree or an MSc in Industrial Engineering and Management or equivalent.
We assume that you have a good ability to express yourself well in English in spoken and written terms, good knowledge of the Swedish language is meritorious.
As a PhD student, you are expected to be able to work independently and take responsibility and have the drive to complete your work. It is beneficial if you have good social skills and are good at managing the interests of different stakeholders.
Read more;
General curricula for the Board of the faculty of humanities and social sciences
Provided that the qualifications are the same, the underrepresented gender will be given priority.
Information
For further information, please contact: project manager Vinit Parida 0920-492469
vinit.parida@ltu.se
, or co-project manager David Rönnberg Sjödin 0920-491819
david.ronnberg.sjodin@ltu.se
Union representatives: SACO-S Daina Dagis, 0920-49 3880
daina.dagis@ltu.se
and OFR-S Lars Frisk, 0920-49 1792
lars.frisk@ltu.se
Luleå University of Technology is actively working on equality and diversity that contributes to a creative study- and work environment. The University's core values are based on respect, trust, openness and responsibility.
In case of different interpretations of the English and Swedish versions of this announcement, the Swedish version takes precedence.
Application
We prefer that you search for the position through the application button where you attach
CV / qualification and diploma
A link to an approximately five-minute video presentation of yourself and how you look at the PhD student role, and why you are a suitable candidate for this position
An essay / report or other text that you have written that shows your scientific competence
A personal letter reflecting on the topic of the project (about an A4 page) and why you are a suitable doctoral student for this project.
Final day to apply:
June 6th, 2017
Reference number:
1755-2017
Apply