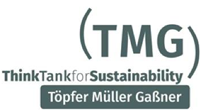 At TMG. Töpfer, Müller, Gassner - ThinkTank for Sustainability, we work to empower sustainability transformations. Together with stakeholders from science, civil society, politics, and the private sector we develop innovative strategies for the implementation of sustainable development agendas.
TMG Research is implementing a research project on Ecosystem-based Adaptation (EbA) in Guatemala and India. The project aims to identify scalable approaches to EbA and to influence the structural conditions that make up-scaling possible. This project's Theory of Change foresees creating incentives for policy change by linking national level policy processes to the global processes on implementing the SDGs and the Paris Agreement. It further foresees to inform policy processes through locally-led research processes on workable EbA measures. At the local level, we will work to empower the intended beneficiaries of EbA to become active agents in these research processes. To make these goals come about, the project seeks broad alliances with other land related initiatives to create the necessary leverage for EbA.
The Position:
TMG Research gGmbH is currently seeking applications for a
Project coordinator (m/f/i)
Under the supervision of the Head of Programmes, the incumbent would be expected to:
design the work programme of an applied, transdisciplinary research project on Ecosystem-based Adaptation in cooperation with a range of different stakeholders.
develop, coordinate, and supervise the implementation of the work programme of the project team and ensure effective project management. This involves supervising a team of two researchers and liaising with project partners in Guatemala and India.
support the Head of Programmes in further developing the strategic approach of the project and ensure cross-fertilization between the different land related projects of TMG Research.
as a member of TMG Research's Management Team, contribute to the further strategic and scientific development of TMG Research.
What we offer:
The opportunity to work in a high-profile, international research project.
The opportunity to work in an organization that strives to make "Science with Society" a reality.
Excellent contacts to a range of national and international political and research organizations.
A dynamic working environment in a recently founded start-up that invites contributions to the further development of its profile and further development.
The position will be remunerated in accordance with the German salary group TVöD 14.
Requirements:
Master's degree in international development, economics, politics, or a related field in sustainability science.
Proven experience of at least three years of relevant work experience with supervisory responsibilities and experience in working within an international environment.
Ability to work effectively, diplomatically, and sensitively with a wide range of partners from science, politics, and civil society.
In-depth knowledge on issues of adaptation to climate change, resource management, and collaborative learning processes. Proven experience in interacting with UN processes is an additional advantage.
Excellent oral and written communication skills in German and English. Good working knowledge of Spanish is an asset.
Enthusiasm, flexibility and a commitment to working within a transdisciplinary, policyrelevant research field.
This position is to be filled as soon as possible.
TMG is an equal opportunity employer. Applications including a cover letter, CV with two referees and references should be submitted in one PDF document (max. 5 MB) until
4 November, 2018
to Anna Günther.
Please upload your application only online via the application button
and refer in your application to the website where the job ad was published.
The interviews will take place on
12 & 13 November, 2018
. Please save the date in advance. For further information on the project, please consult the website (
www.tmg-thinktank.com
) or contact Ms. Anna Günther via email (
anna.guenther@tmg-thinktank.com
) or phone (+49 (30) 92 10 74 07 – 45) for details on the application process.
URL zum Bewerberformular:
https://jobapplication.hrworks.de/apply?companyId=g27838b&id=184635
URL zur Job-Anzeige:
https://jobapplication.hrworks.de/?companyId=g27838b&id=184635