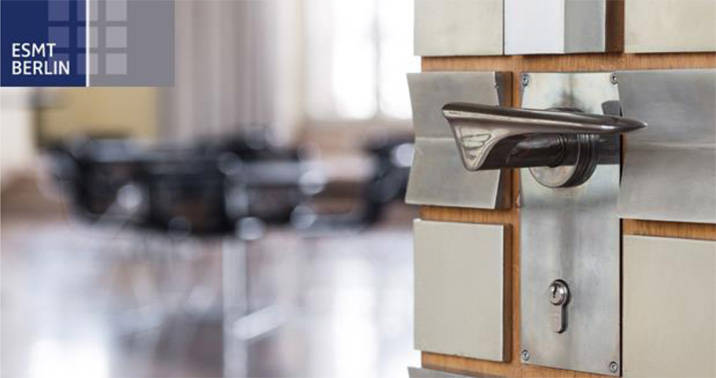 ESMT Berlin
was founded by 25 leading global companies and institutions. The international business school offers a full-time MBA, an executive MBA, a master's in management, as well as open enrollment and customized executive education programs. ESMT focuses on three main topics: leadership and social responsibility, European competitiveness, and the management of technology. ESMT faculty publishes in top academic journals. Additionally, the business school provides an interdisciplinary platform for discourse between politics, business, and academia. Supported by leading global companies in Germany, the
Digital Society Institute Berlin
was founded at ESMT Berlin in order to support the economic and social development of digitization through strategic research and development. The institute designs effective, responsible strategies for politics, business, and society in Europe's digital future and develops innovative technologies for novel approaches to digitization and cybersecurity. Are you interested in changing the game in securing real-world embedded/cyber-physical systems or in new approaches to network security? You could be part of our ESMT Digital Society Institute team as a
Senior / Junior Researcher in Disruptive Cybersecurity
(m/f, part-time or fulltime)
Depending on the project, tasks include
Development of high assurance security concepts
Design and pilot-implementation of applications in different fields (e.g. network modeling, embedded systems or intrusion detection)
Monitoring research results and assessing new technologies in network/system security
(optional) Participation in security assessments for major companies
(optional) Participation in workshops and conferences in cybersecurity to foster discussion between academia, industry and politics
You are qualified for one of these positions, because
You are enthusiastic about IT-security
You hold a Master's degree (PhD for senior researcher) in computer science or a related field
You have experience in at least one of the following areas: network security, system security or security modeling
You have learned to work scientifically and have a solid understanding of cryptographic principles and other security fundamentals
You are not scared of hard problems but can tackle them independently as well as in a team
You have programming experience
This is what we can offer you
You will experience a very international working environment in the heart of Berlin. As a part of our team, you can expect an open-minded and cooperative atmosphere with flat hierarchies and a very competitive salary (up to 110,000.00 € p.a. based on performance). You will be closely involved in research and development projects with major industry partners. Free time for your own research is part of the job. A German government security clearance (SÜ) or NATO clearance is an advantage.
We are looking forward to receiving your application in German or English via email (Subject: Researcher DSI), including:
motivation letter including your salary expectations and your possible start date
CV with relevant certificates and references
work permit for non-EU citizens
Please combine all the documents into one pdf file.